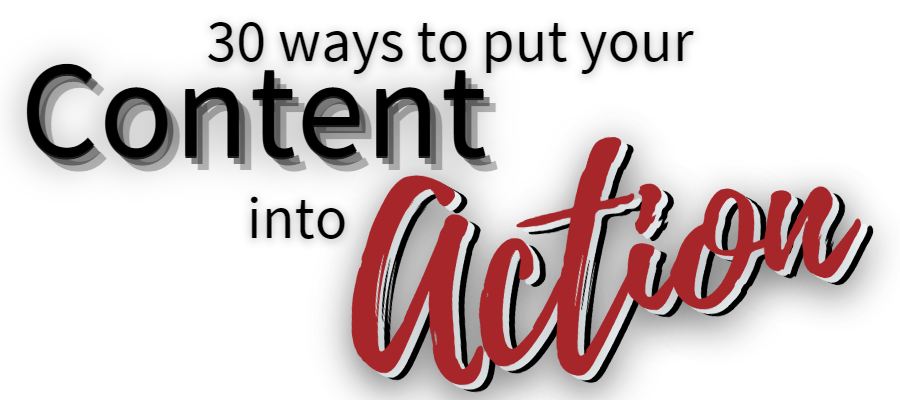 Your content is only as good as its execution. You can have the best ideas in the world, but if you don't put your content into action, they'll never reach their full potential.
That's why it's so important to create interesting and engaging content that your readers are going to love and then share it with them in the way they want you to!
Creating Content Your Readers will Love
It's no secret that creating content can be a daunting task. But it doesn't have to be. The key to creating content your readers actually want is understanding WHAT they want!
You can try conducting surveys or interview your readers, but, as you know, that takes time, time you don't have. Let me shorten it for you and give you ideas that your readers will enjoy and love to keep.
As a self-proclaimed voracious romance reader, I always wanted more from my favorite authors. Anything, anything related to their characters or their stories. I even put together a list here of all my ideas!
Typically, content you offer online must be offered in certain formats. Here's a list of content you could offer:
Printable/editable PDFs
ebooks
journals
calendars
planners
notebooks
coloring books
checklists and lists
worksheets
charts
guides
timelines
maps
Print-on Demand Products
stickers
magnets
bookmarks
tote bags
keychains
hoodies or t-shirts
posters and mini posters
card decks
mugs
Online Content
graphics or images
infographics
blog articles
email newsletters
videos
backgrounds or screensavers
audio
memes
gifs
Offer Exciting and Compelling Content they'd Love to Have
Quality content is essential for any website or media platform. If you're looking to keep readers interested and engaged, offering exciting and compelling content is key. This content should provide helpful information to your readers and offer useful content ideas that keep them coming back for more.
Taking the time to create quality content will help increase reader loyalty in the long run, so it's definitely worth investing the effort. With creative and original content, you can ensure that your readers look forward to each new post with enthusiasm!
Here's an example:
You want to give your readers a map of the community for your most recent story. You think it would be fun and informative to show your readers the correlation of the houses that your characters live in to each other.
Now, you can take this idea, create a map and add it to your website. That would be just fine.
As a reader, I want you to take it the next level. Yes, adding this map to your website would be awesome. But you could also write a blog post about it, telling your readers why you had it created and what's on it.
You could also create a downloadable and printable pdf that allows your readers to take your map home with them. How fun would that be. As a reader, let me tell you, I'd sign up to your email list just to get that map!!
Take it even further and offer this map like an actual map, a poster sized map, full of color and details. Something that your readers can literally hang up in their room like their favorite movie star! There will be readers that will want something like this. And you could charge a small fee for this giving yourself a little extra money in your pocket.
Offer New and Interesting Content Ideas They'll Love!
The main reason for this website is to give you, the author, content templates to create new and exciting content and give it to your readers.
The content ideas listed on The Ultimate Guide to Content Ideas can be transformed into PDFs, tangible products and online content. Talk about upping your content strategy.
Click the image to the guide and to find the links to transform many of the content ideas using templates made on Canva.
How to Share Your New Content with Your Readers?
You've spent hours, days, weeks, crafting the perfect blog post, article or ebook. But now what? How do you get your content in front of readers so that it can actually help them?
Here are a few ideas:
Add it to your book page on your author website. This is a great way to increase the number of visits to your website. Adding customized and relevant content on each of your book pages will not only make your readers happy, it'll also make the search engines happy too.
Let your readers take it home with them. Give your readers something awesome in exchange for their email address that they can download and print to have beside them when they're reading your book.
Add it as a blog article on your website. Blogging is an ideal strategy to start creating articles that might be appealing to and help your readers become more informed about your book and your merchandise.
Share it on social media. This is a great way to reach new readers and get your content seen by more people. Be sure to use hashtags and tagging appropriately to maximize your reach.
Email it to your list. Building your email list and sharing your latest content is an essential strategy for your Author Business. You can also share exclusive content with your list that isn't available anywhere else.
Scale up your graphics with interactive video. If you don't learn how to make videos (or have someone make them for you) you're not going to be as noticed. Video is a must in your marketing.
Turn it into offline content. Setting up an online store and offering your readers swag products or merchandise (bookmarks, mugs, notebooks, calendars, posters) will not only endear you to your readers, but just might put extra money in your pocket.
By taking action and getting your content out there, you can reach more readers and help more people with the information that you've worked so hard to create.
And you don't need to create it alone. Each of the templates come with the most ideal additional content. You'll get tips and tricks to adding your new content idea to your email list or your blog. Follow the links to each template.
Make Your Content Work for You
As a business owner, it's important to keep your audience engaged by regularly sharing new content. But with so many platforms and options available, it can be tough to know where to start.
Here are a few tips to help you get the most out of your content strategy:
Start with a plan. Decide what kind of content you want to share, how often you'll share it, and who your target audience is. This will help you focus your efforts and ensure that your content is truly useful to your audience.
Use a mix of platforms. Don't just stick to one platform – mix things up to reach as many people as possible. Share blog posts on social media, post photos on Instagram, and run promotions through email marketing.
Be consistent. Once you've starting sharing content, it's important to keep it up. Consistency will help you build a loyal following and keep people coming back for more.
By following these tips, you can create a content strategy that will engage your audience and help grow your business.
If you'd like to dive deeper in creating your own content marketing strategy, click the link above (image).
---
What's Next…