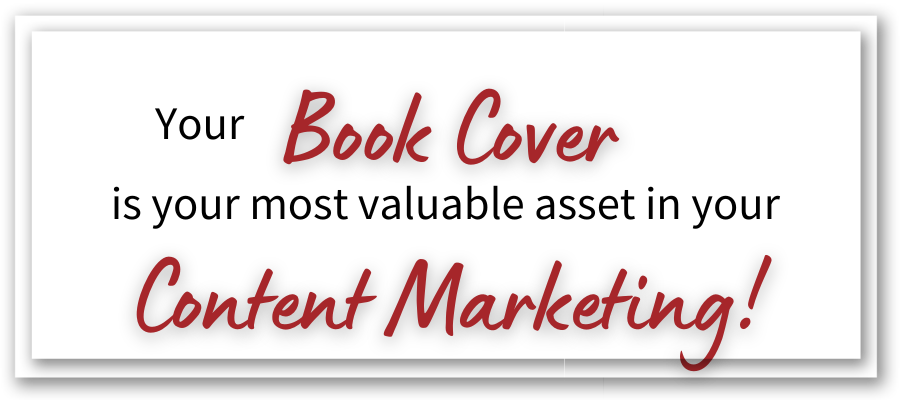 Your book is judged by it's cover!
Your book cover, whether you like it or not, will either appeal to your reader or not.
You must convince your reader to buy your book. And you have three seconds to capture their attention.
Because your book cover is the first thing your readers see, it needs to be eye-catching. And if you want your readers to remember you the next time they're in need of a new read, it needs to be memorable.
Not only does your book cover need to be unforgettable and noteworthy, you need it to create buzz in your content marketing. It should also help you with your SEO ranking and act as a teaser on your favorite social media.
So let's talk about your book cover.
Your book cover needs to be eye-catching.
One of the biggest frustrations as a romance reader is seeing a book cover that is so ugly and unappealing.
And even today with all the bells and whistles to create one today, I have seen covers that should be thrown away. Covers that should be fixed because they are unappealing and just wrong.
I'm not going to tell you what makes a good book cover, because I believe that it's a personal thing. But I will direct you to some very successful people who make romance book covers. The great ones!!
As a romance reader, I know what types of covers are interesting to me and what ones turn me off. I also know what type of book I like to read and know what that looks like.
As a content creator, I'm not offering book cover design yet, but here's a list of reputable people that do know what they're doing. This link is free to you (meaning you don't have to give me you email to get it!!)
Your book cover must be memorable.
Because your book covers are the face of your product, it's the only thing people will see. So your cover must be memorable. Your cover needs to stand out amongst the others so you'll be picked over other books.
When you design your book cover, remember it needs to be interesting and even attractive. If you fail to do so, then another book will be picked instead of yours. Please note that many a romance book cover is adorned with an attractive character. But the attractiveness I'm talking about is how appealing and memorable your book cover is over others.
A great book cover can create a lot of buzz and word-of-mouth marketing.
A book cover is an art that should convey the mood and setting of the book in just one look. It's a good marketing strategy to have an eye-catching and attractive cover, as it attracts more readers depending on its design. A good illustration also means your message is reaching your readers.
A well-designed book cover can pique the interest of your readers, which can lead to more buyers for the book. There are a lot of great covers out there that have created a buzz in the market thru word-of-mouth promotions. Take a look at any of the books by Danielle Steel, Nicolas Sparks, Robyn Carr or Nora Roberts. Each of their book covers have been specially designed for their book.
A well-designed book cover contains elements that not only draws the reader's attention but also makes them curious enough to know more about the story. It can be done thru illustrations that have significant meanings, or just the right visual elements, including colors and design that captures the mood, setting, and theme of the book.
Your book cover can help you with your SEO by including keywords in the title and description.
I can't tell you how many times I've NOT found a book to read because there was no keywords attached to the book cover, book page or website.
As I have watched the internet grow and seen author's website be created, one monumental complaint I've had is that authors do not use keywords in anything. As I learned about search engine optimization and copywriting, I knew that keywords were the issue.
So what does your book cover say about your book? The obvious answer is "this is what this book is about." But did you know the words on your book cover can also help with SEO.
When optimizing your book covers, one important fact to note is Google, Bing, and Yahoo all read the book titles, book descriptions (and subtitles) and the keywords they contain to help determine what your books are about.
It's important to include keywords in both the title of your book and description, but it's also not a bad idea to put some keywords into other elements of your book cover design or layout.
As a romance author, you have some keywords that are just your own, but there are some that are more general and that's when you have to rank for those ones to really succeed.
Take a look at this article about what your keywords would be as a romance author.
Your book cover is a social media teaser for your content.
What is social media? It's a way to promote your product to the masses. And the number of people you could reach is almost limitless!
But the question is how do you market your book?
Are you looking for a different way to share your book, your characters with your readers??
Take a look at Book Cover Infographics! These take the idea of an infographic and merge it with your book. Giving your readers more than just your back blurb! Because if any of your readers are like me, they're tired of your back blurb.
Take a look how you can share your characters on a graphic template here or here.
As a reader of way to many years, please take the time and money to create a truly awesome book cover! You'll not be sorry if you do.