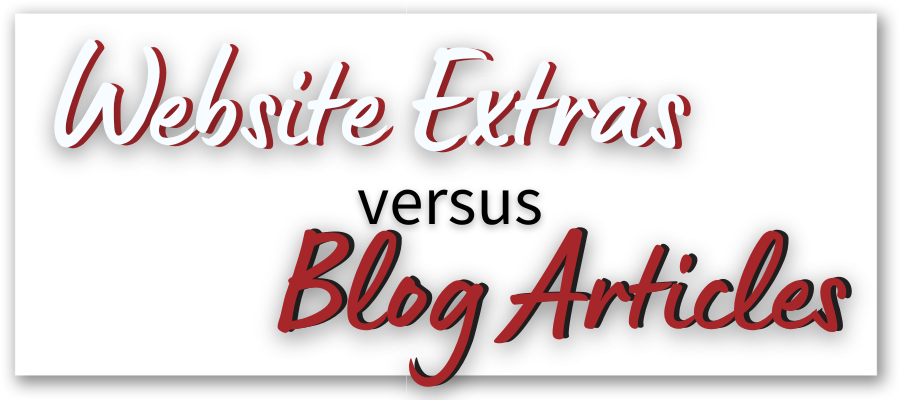 When it comes to author websites, there are a few different types of content you can include beyond the basics like an author bio and a list of your published books. Some authors choose to add blog articles to their site, while others opt for extras like inspiration pictures or behind-the-scenes looks at their writing process.
So, what's the difference between these two types of content? And which one is right for you?
Blog articles are typically shorter pieces that are meant to be timely and relevant to your readers. They might cover topics related to your book or delve into your thoughts on the writing process. Blogs are generally updated on a regular basis, which can help keep readers coming back to your site.
On the other hand, website extras are generally longer, more in-depth pieces that offer a more comprehensive look at your work. They might be interviews with you about your latest book or an in-depth exploration of your writing process. Website extras can be added as needed, rather than being updated on a regular schedule.
Both blog articles and website extras can be effective ways to connect with readers and give them a glimpse into your world as an author.
Let's dive deeper into which would be best for you!
Should You Add Website Extras or Write Blog Articles?
When it comes to promoting yourself and your work as an author, having an author website is a must. But once you have the basics set up—a bio, headshot, buy links, and maybe even a newsletter sign-up—you might be wondering if you should add anything else. extras like a list of your favorite things or blog articles about the writing process. Here's a look at both options to help you decide what's right for you.
Website Extras
Website Extras are a great way to give your readers a little something extra on your website. This could be the Inspiration Pics that inspired your characters, or the Deleted Scenes that you were forced to take out of your manuscript.
Essentially, website extras are ways for readers to get to know you a little better and find out more information about your book and characters.
One thing to keep in mind with website extras is that you don't want each extra to be too long or overwhelming. A good rule of thumb is to keep it to a small handful of items that your readers will consider valuable to the particular book it's attached to.
You also want to make sure that everything you add to each book page is something you're comfortable talking about and that won't turn potential readers off (for example, if you're a clean romance author, offering pictures that are graphic (sexual) in nature might not be the best idea).
Blog Articles
Writing blog articles is another great way to connect with potential readers and promote yourself as an author. But unlike website extras, which can be static, blog articles are evergreen—which means they'll continue to draw traffic long after they're published.
To make the most of blog articles, it's important to choose topics that will be relevant and interesting to your target audience. For example, if you write romantic suspense novels, talking about the real-life cases that inspired your book might be a good option. Or if you write Regency romances, giving readers a behind-the-scenes look at what goes into researching and writing one of those novels would be great content for a blog article.
Both an extras page and blog articles can be great additions to any author website—it just depends on what you want to accomplish with each one. If you're looking for something quick and easy that will give visitors a little insight into who you are as a person, then adding website extras to your book page is probably the way to go.
But if you're looking for something that will continue to draw traffic long after it's published, then writing blog articles is the better option.
No matter which route you choose (or whether you choose both!), just remember to keep your audience in mind so that you can give them the best possible experience on your site.
What's Next…