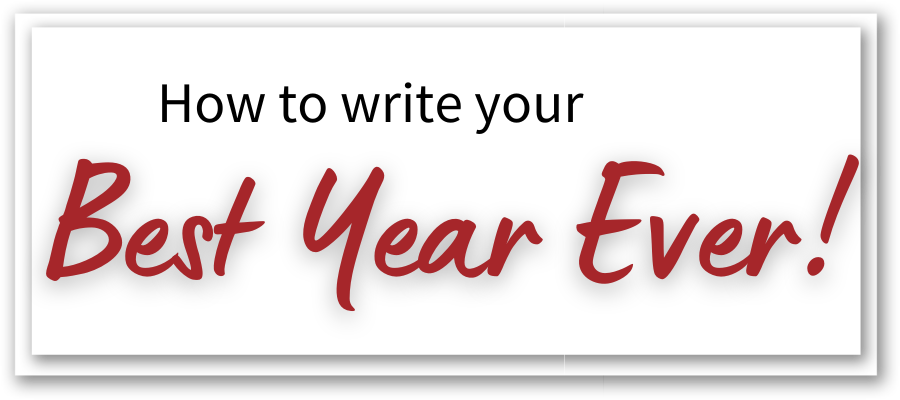 Writing a romance novel is no easy feat. It takes patience, determination, and most importantly, time management skills to be successful in the industry. With so many different tasks that need attention on a daily basis, it can be difficult for new writers to know where they should start or what their priorities are.
That's why working out your yearly goals first will help you determine what you want from your career as an author while also showing you how to plan everything else accordingly.
When it comes to having your best year ever, there are a few key things to remember. First and foremost, you need to set realistic goals for yourself and your author business. Then you need to plan out how you're going to achieve them. Secondly, it's important to take some time out for yourself – after all, if you don't have your own energy reserves, you won't be able to write that story that you've been dreaming about writing.
Follow these steps to intentionally plan your year to make this Your Best Year Ever.
1. Set realistic goals for yourself
When you start writing your book, there're a few things to think about before you begin. Your values and standards come into play, especially when deciding on the genre you're gonna write in.
You also need to be realistic on not only what you're gonna write but also on how much you'll write each day. You'll need to set a specific word count each day to meet. Of course, you can adjust and change your goals as you go.
2. Make a plan of action and stick to it
It can be tough to stick to a writing routine, but it's worth it in the end. Here are a few tips for making a plan of action and then sticking to it:
-Set realistic goals for yourself. Don't try to write 500 words per day if you know that's not possible for you. Shoot for around 200 if that's your average or 100 words a day if you're just starting out.
-Start small and gradually increase the amount of time per day that you spend writing until it becomes a habit. If five minutes seems realistic, start there instead of at an hour! You can always increase as you go along to make the plan tougher.
-Schedule your writing sessions. Treat them like meetings with a client or doctor's appointment, and don't cancel unless it's an emergency!
-Take advantage of any free time that you have during the day to write something down in your journal. It might be just one sentence, but that can turn into more later on when you have more free time.
3. Take some time for yourself – relax and recharge your batteries
It's so important to take some time for yourself, to relax and recharge your batteries. We often put ourselves last and don't take the time we need to recover and rejuvenate. Whether it's taking a long bath, reading a book, going for a walk or just spending time with friends, make sure you schedule in some "you" time every week. You'll feel better about it!
Take a break from work – even if it's just for an hour or two each day. Get up and walk around, take a nap or just sit outside and enjoy the sunshine.
Find something that relaxes you and do it regularly. Whether it's reading, yoga meditation, or playing with your pet. No matter what you choose, find what works for you and intentionally make time for YOU!
4. Connect with other writers and creatives at writing workshops or author readings
It's always good to connect with other writers and creatives at writing workshops or author readings. You never know when you might find your next client, customer, or best friend!
There are so many different types of people out in the world – it'd be a shame not to meet even one more person that could help you along your journey.
Get involved with social media – dive into Facebook groups and find another author that's doing what you're wanting to do. Ask them how they got started, what resources they use, and anything else you're curious about.
Attend a writer's workshop in your area or even online. There are plenty of great ones out there that can help you learn more about the business side of writing, how to market yourself and so much more!
5. Keep a journal to track your progress
The final tip for improving your writing skills is to keep a journal tracking your progress. This can help you see where you're making the most progress and what areas still need improvement. Seeing your growth is a great motivator!
It's important to compare your writing now and how you used to write. It could give you a good idea of where the improvement can be made, or even just make for an interesting read!
6. Celebrate your successes, no matter how small they seem
Whenever you accomplish a goal, no matter how small it may seem, take the time to celebrate your success. Treat yourself to something that you enjoy, or simply pat yourself on the back for a job well done. Taking the time to celebrate will help keep you motivated and inspired to continue working towards your goals.
So, these are the things you can do to celebrate your goals.
Do not forget that celebrating is important! You should always take a moment to acknowledge yourself for working hard and accomplishing something that matters to you. Celebrating will keep you motivated, inspired, and focused on what's next in life.
So remember – if you can achieve your goals, let yourself celebrate that success!
Therefore, you should take the time to enjoy your hard work and motivation.
Your Best Year Ever is just around the corner. Achieving your goals and making 2022 truly phenomenal may seem daunting, but it doesn't have to be. With a little bit of planning and these simple tips for success, you'll be well on your way to having an amazing year!
Download our FREE Your Best Year Ever Workbook Journal today so that you can get started right away at creating new habits and achieving all of your goals in one place.
Have any questions about how to create your workbook? Let us know by emailing romanceauthorva(at)gmail.com or messaging us through Facebook or YouTube!
We're here to help make sure that YOUR BEST YEAR EVER starts now!