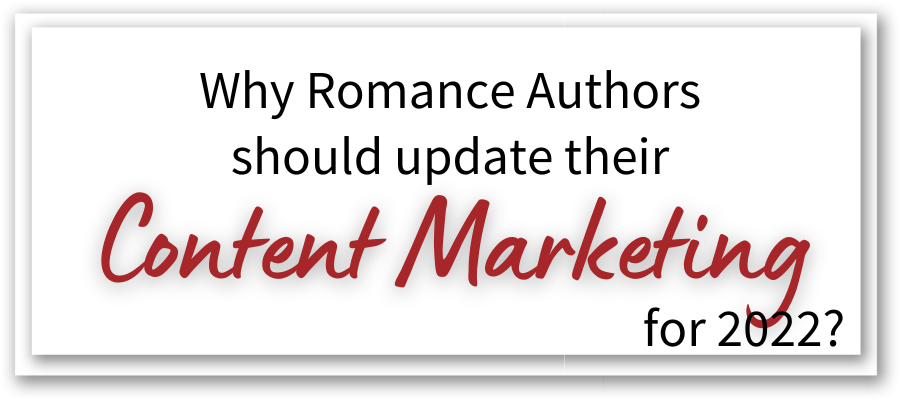 You've probably heard that content is king. But what happens when your content becomes stale? If you're not updating your content marketing strategy to reflect the current trends, you'll find yourself falling behind the competition. So, if you're wondering whether or not you should update your content marketing for 2022, the answer is a resounding yes!!
In this blog post, I'll show you why it's so important to stay ahead of the curve and what changes you can do to ensure your success. Keep reading to learn more!
What is the future of content marketing? And how you can update your strategy.
Authors, you should create relevant, consistent content that brings value to your readers.
You need to tap into next-level marketing techniques like deep data analysis, machine learning, and artificial intelligence (AI) to stay ahead of the curve.
The necessary marketing approach for today is, essentially, evolving with the times. When you're your own marketer, you need to know and understand the ways us readers communicate and access information. This helps to stay relevant and competitive.
So how can you, as your own marketer, stay ahead of the curve?
Artificial intelligence is one possible answer to that question, as it's an evolving technology that promises to change the way we communicate. AI is now being utilized in marketing departments around the world, providing organizations with new ways to research and interact with their customers.
Need help with your blog writing? Let's chat.
Authors should consider creating more interactive content to stand out from the competition.
Imagine you're browsing your favorite author's website and you come across what looks like a great article. The title intrigues you, the intro pulls you in and the author's thoughts seem well-founded. You get to the end of the piece and find yourself… underwhelmed.
The whole reason you chose this author's website is because they have a stellar reputation. But the article you just read is nothing special — it's not even a long blog post you've seen elsewhere.
You know this site is capable of better than that. You may visit again but nothing about this experience instills a sense of loyalty and encourages a repeat visit.
Now imagine, you come across a similar article on a different author website. The headline and intro are not as compelling but you're intrigued enough to read it. As soon as you start reading, it's clear this author put in some real effort: there're pictures, a TOC, links to other related books and articles, and it captures your attention. It's longer than your normally read, but become satisfied because there are extras that you found exciting and fun.
In other words, this article is more likely to stand out from the competition and turn new readers into loyal fans.
With the way that online publishing has exploded, it's never been easier than ever for authors to write engaging content that's easy to create and fully loaded with interactive features.
And if you're looking for done-for-you content, have a look at these blog article templates that you can customize and edit to your own branding and style. These templates are topic ideas and thoughts that your reader are looking to know and understand about you and your books. Go here to see what's included.
Authors should consider focusing on video marketing – a tried and tested marketing technique!
There're a lot of things that romance authors, running their own author business, should be doing to increase profits and finding new customers.
They need to think outside the box in order to find what works for them and what doesn't. Unfortunately, this is easier said than done, especially in today's market with so many options available. Because of this, some authors are garnering a lot of attention.
They're focusing on video marketing and have found it's an excellent way to get new readers and ultimately increase their profits. They've found that people love videos and are interacting and engaging with them. They'll watch the videos, even if it's only a few seconds long.
In those few seconds, the reader will either be interested enough to click to learn more or they won't. In either case, this is an excellent way for authors (in your author business) to figure out just how well your books are doing with new readers who see them for the first time, as well as your current readership who've seen your videos before.
With technologies today, you can easily edit the pics that you've already taken and create stunning videos that your readers are going to love. Contact me to learn more.
Authors need to use storytelling techniques to create valuable, engaging content that provides real value to their readers.
Storytelling is the single most powerful way to engage an audience. You know this! At its core, it's just a series of words that're designed to create experiences in the reader's mind. Everything, from how you describe a character to what tone you take when talking about another author, influences how your readers feel and think about the topic you're discussing.
Reviewers often tell me that my reviews are engaging. As a reader, I always feel like I'm on a journey with the characters. Even when your characters are describing the minutae of their experience with their world, I continue to be engaged because it's an immersive experience.
That's why every article you write should have a story. Every sentence should be crafted to take your readers on a journey that leads them to a conclusion you're trying to make.
This is where you can include stories about things that have happened in your life or the lives of your loved ones. This can become topics of discussion, but more importantly they provide fodder for metaphors. Transitions between topics should also be constructed as a series of steps on a journey so that your readers can follow along and understand how one idea relates to another.
I've found that the best stories are the ones that you tell yourself. And this is the only time that I like 1st person narrative. Doing it this way forces me to "live" what you're writing about.
In conclusion, you should make sure that you're updating your content marketing strategy for 2022. As the industry changes, so must you. These simple steps can help you get on the right track. Updating one's strategy regularly has proven fruitful for many authors who know how to adapt quickly.
So what are you waiting for?
Click here to learn more how you can add Book Cover Infographics to your marketing strategy.
Click here to learn how you can write your own blog posts with these done-for-you templates.