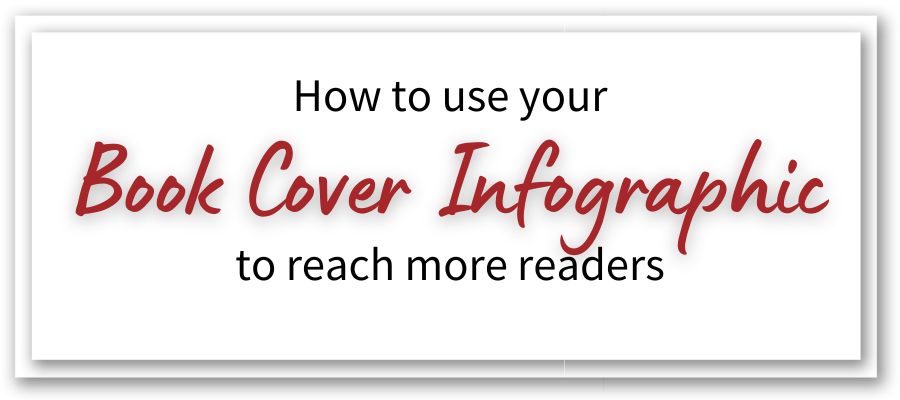 Did you know that infographics are one of the most shared types of content on social media? That's because they're a great way to communicate complex information in a visually appealing way. If you're looking to reach a wider readership with your romance novel, it's a fun and functional way!
In this post, we'll discuss how you can easily create and use infographics to promote not only your writing but more importantly your book. So, if you're ready to start reaching more readers, keep reading!
What is an infographic?
An infographic is a visual representation of data, information, or knowledge intended to present complex information quickly and clearly. Anywhere information or data that needs to be presented quickly and clearly can benefit from infographic design, so the number of uses is only limited by human imagination!
Some common infographic uses are: a way to process information, share the history of a product or service, explain the steps in completing a task, compare and contrast something (e.g. two competing brands), etc. Just to name a few.
A true infographic should be engaging, informative, and visually appealing. The infographic has been around for thousands of years, though it wasn't always called that. For a history of the infographic, go here.
Why you should use an infographic in your content marketing?
An infographic is a graphic visual representation of information, data or knowledge intended to present complex information quickly and clearly.
Infographics are not only cool-looking but also aid in SEO efforts. When infographics were first introduced into the web marketing world they were mostly seen as a novelty and even referred to as infographic porn because people would share them without adding any real value to them.
Now, an infographic can take your content marketing to the next level, if you use marketing strategies.
Do infographics lead to better content marketing results?
So the question is, do you use this type of graphic in your content marketing?? As a romance reader and someone who's been following marketing trends for the past several years, I've wondered why romance authors don't use infographics in their marketing.
A 2015 post from Pew Research Center, says that fewer and fewer people are reading. But with the pandemic, book sales has flourished, according to Wired.com. If book sales have flourished, your content marketing needs to have an infographic in it.
A Hubspot post shares 25 different stats that show how Infographics can and should be used in your content marketing. Things like infographics increase your website traffic by 12%. Or infographics are the fourth most-used type of content marketing.
You can benefit from these marketing results too when you use an infographic.
What's the infographic advantage?
An infographic can help you get a spot on a web page in front of your prospects when they're skimming through information about different products and services before making a purchase decision. A visual infographic simplifies complex data into easy-to-read graphics that are more engaging to your readers who don't want to spend time reading long text. Or those readers that are researching to find more books to read. An infographic can catch their attention.
With infographic content, you can get your message across more quickly and with fewer words. As an infographic designer, I have come up with many ways on how infographics can help show off your books and help your readers to "see" your book before they buy it.
Key elements of effective infographics
Infographics aren't just for social media. They can be run as newspaper articles and distributed like any other article or editorial.
There are four key elements of successful infographics:
Your infographic should be designed using easy-to-read fonts and colours;
It should include a title that clearly gets your message across;
it should feature bullet points with short sentences conveying important information;
and the style of your infographic should be in line with its message.
Once you've used infographics to explain something about your book, your readers will be in a position to recommend it to friends who are having difficulty understanding the same issue.
This is also the case with infographics that explain an aspect of your book and your characters. Readers won't buy your book until they understand what makes it unique and how it's different from other books on the market.
With this in mind, infographics should be used to explain different aspects of your book, your world, your characters, even your purpose (the why behind writing your story). When done this way, your book is clear and easy to understand.
For example, when you sell your book series, the infographic could use different colors to highlight your different book covers. You could also showcase a particular character for an upcoming book.
Alternatively, you could contrast two of your best characters to show what their personalities are, all to entice more readers to buy your books.
Tips for using infographics in your content marketing strategy to reach your audience
With a creative graphics and a well-designed infographic, you can attract the attention of your readers. What's more, infographics have been found to be twice as likely to be shared on social media than text articles.
You can solve your readers problems by using an infographic.
They might be confused about your book order, or annoyed that you've reissued a new book cover (because they got sucked into buying the same book again) or maybe they just want to know more about your book before they buy it.
No matter the reason, your book cover infographic can solve their problem. And when you've solved a problem of theirs, they'll remember you and even share it with others.
You can also embed your infographic with your website URL, making readers know where to come to get more information about your books and about you.
If you do embed your URL, Google likes that and it helps with your SEO.
You can also use your book cover infographic to promote your book. Because people are visually inclined, they remember a picture faster then reading text. And they remember your book cover!
You can take advantage of that and offer a book cover infographic that shows off an aspect of your book that you think your readers might benefit from.
Your infographic then becomes a marketing tool! How fun is that!!
And that tool can also be used in your emails. Send your book cover infographic to your email list encouraging them to come to your website to see what other books they can read.
Infographic resources and tools that can help you create graphics quickly and easily
There are some formatting tips you should keep in mind when you're creating your infographic.
When you use this type of graphic, remember that factual statements should be used, not opinions. There are details and elements of your story that are facts that don't change! And it's those facts that your readers are looking for! Then THEY will make a decision about your book!
Your infographic should reflect your genre topic. That means that if your book is a sweet romance, the elements reflect that. But if your book is a mystery with a dark theme, then your elements reflect that type of dark theme!
Your book cover infographic can be used in almost any part of your marketing, from emails, to blog posts, to email campaigns, to your social media! And even your book launch campaign.
We want to help you reach your readers and drive more sales by using infographics in your content marketing strategy. Check out these different Book Cover Infographics.
To help you create infographics easily, please go to Canva.com. This is an affiliate link, so I'll get a small commission when you create an account.
If you have any questions, please contact me at romanceauthorva(at)gmail(dot)com!!
Share your book cover in a Book Cover Infographic!
Why authors don't use an infographic in their marketing has always baffled me as a reader. Why? Because, as a content marketing consultant, it's a powerful tool that is used in many marketing campaigns.
Repurpose your booklist into a Book Cover Infographic. Each design is a little different, but the purpose is the same – to share your booklist with your readers while showcasing your book covers. And to save you time and energy, check out these done-for-your content templates: